(In no particular order) I love everyone on this list and I'm breaking open my heart to let them free and find others. [I also don't own any of these images.]
💗 💗 💗 💗 💗 💗 💗
1. Twenty
Ø
ne Pil
ø
ts #clique
Genre: Abs

ø

lutely everything
How I found out about them: I've been hooked since hearing "Tear In My Heart" on the radio. I also heard "Migraine" in a youtube video and fell in love. LISTEN, everybody and their brother is a T

Ø

P fan, and that's great because they deserve the recognition, but their songs have insanely deep meanings that often go unnoticed. The band consists of Josh Dun and Tyler Joseph, they touch on mental illness and some dark thoughts that lot's of people ignore. But, I'm just a teenager who thinks they can relate to this band so

¯\_(ツ)_/¯

My Favorite songs:

Migraine ➡️ Album: Vessel. // If you only listen to a single Twenty One Pilots song, this should be it.
Message Man ➡️ Album: Blurryface. // Sounds like there's an organ playing.
Glowing Eyes ➡️ Album: Regional At Best. // "This room is far too dark for us to stay around, Redemption's not that far and darkness is going down".
Ode to Sleep ➡️ Album: Regional At Best. // All I can tell you to do is listen to this song.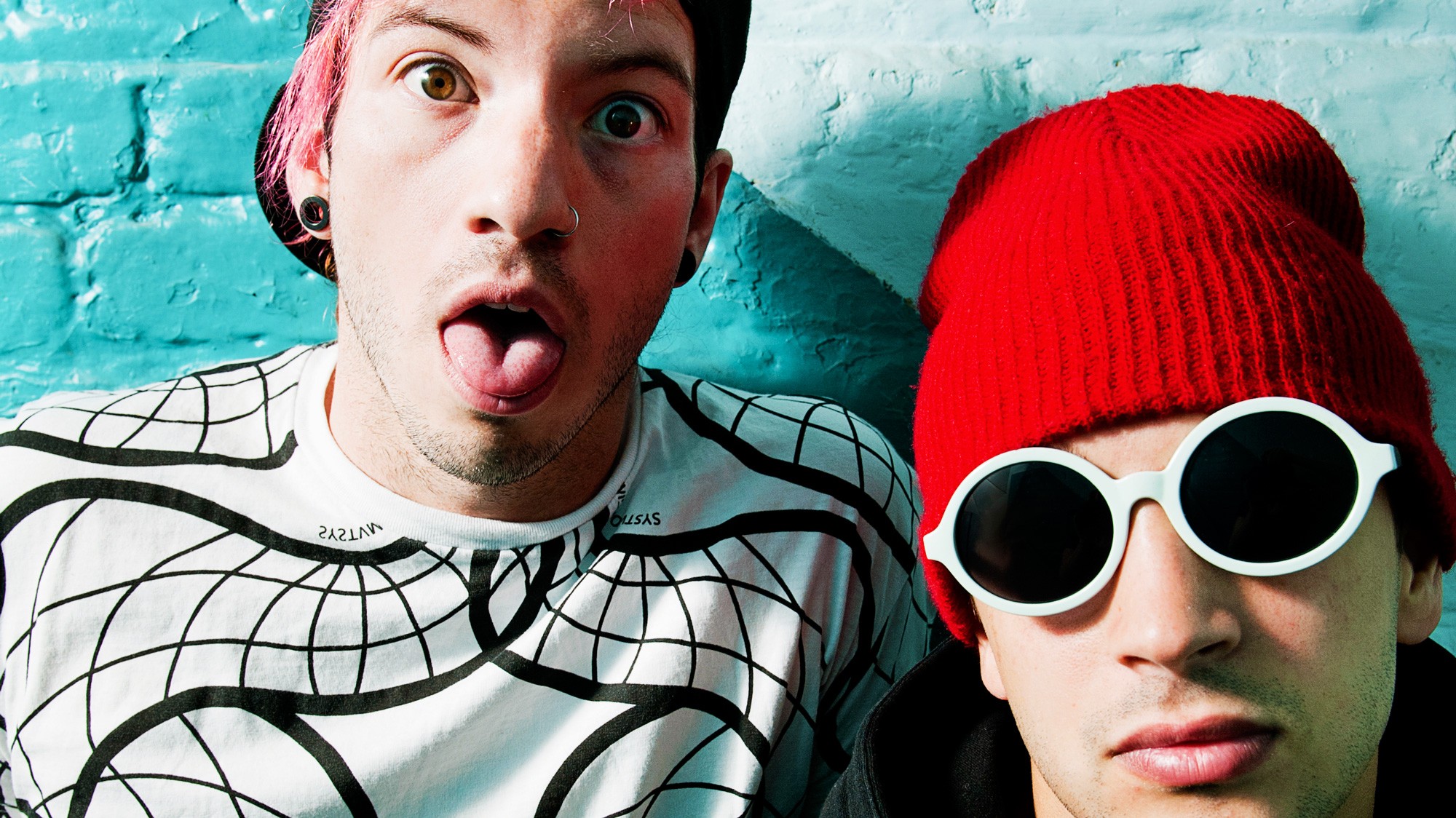 2. My Chemical Romance
Genre: Alternative, Rock, Punk (in their earlier days)
How I found out about them: Hear me out, because I know you might be hesitant to go into this but I've really learned a lot. MCR was ( ☹ ) a really fantastic rock band and their fans are really confused kids that are just looking for a way to escape. I heard JUST A CLIP, of their song "teenagers" in a youtube video, and fell in love. I'm a bit over the angrier songs and in a better place now, but still a fan all the same. The band was formed when four guys (Gerard Way, Ray Toro, Frank Iero, and Mikey Way) felt like they weren't going anywhere in life and wanted to make music that they could put all of their pent up feelings into. They put so much work into their music, I love them with all of my heart, and the band has been broke up for few years now, but definitely listen to them sometime.
My Favorite songs:

Bulletproof Heart ➡️ Album: Danger Days. // This song is one of my all time favorites and has a nice tune to it and something to listen to on any occasion, not too loud and no swear words.
Famous Last Words ➡️ Album: The Black Parade. // This was my introduction to rock.
Headfirst For Halos ➡️ Album: I Brought You My Bullets, You Brought Me Your Love. // This song is a little old, and a little underappreciated.
Ambulance➡️ Album: Conventional Weapons. // 80's vibes. "Cause we are not afraid, and we are not the same."
forgive me
3. Taylor Swift 🐍
Genre: Country, Pop
How I found out about her: My dad downloaded all of her songs on my ancient phone in the third grade and the rest is history. I know every single word to her songs and I've seen her once live. Taylor (obviously) isn't like other artists on this list and lots of people dislike her (suddenly) but she's one of my all time favorites and I recommend some of her songs from Red or Speak Now if you're interested.
My Favorite songs:

Haunted➡️ Album: Speak Now // The acoustic version of this song gives me CHILLS. Haunted is such a desperate song about loving somebody and it's amazing.
How You Get The Girl➡️ Album: 1989 // And that's how it works! That's how you get the girl! This is a another midnight slumber party song that you dance to with your friends. Very cute, 10/10 would recommend.
All Too Well➡️ Album: Red // This song is know for the infamous line: "and you called me up again just to break me like a promise". Listen to if you want to reminisce (and cry) about a love that is no more.
Fearless➡️ Album: Fearless // One of Taylor Swift's early songs, Fearless is about finding your place in this big big world and not being afraid to dive into life head first, fearless.
4. Weezer
Genre: Alternative rock, Rock, Indie rock, Punk rock, Nerd music
How I found out about them: Everyone knows their song Beverly Hills and Say It Ain't So, but I started liking Weezer when I started to hear their white album on the radio. Some of their songs are more punk rock, others slower and fun to listen to with friends or alone. I'm not as passionate about Weezer as I am some other bands, but their music always seems to bring me up.
My Favorite songs:

California Kids➡️ Album: The White Album. // Beach vibes. "If you're on a sinking ship, the California kids will throw you a life line.
We Are All on Drugs➡️ Album: Make Believe. // Listen to this song if not for any reason other than to watch the music video and see kids mouth "drugs" over and over again.
Troublemaker➡️ Album: The (self-titled) Red Album. // Rock out.
makes sense
5. Sum 41
Genre: Punk, Pop Punk, Punk Rock, Alternative
How I found out about them: I was watching MCR covers on youtube, when I came across a cover of their song Fatlip, and me and my teenage angst immediately related to every song. This band has been around for a little while now and they've started to release new music which I'm very excited for.
My Favorite songs:

Fatlip ➡️ Album: All Killer, No Filler. // The song that started it all.
Heart Attack➡️ Album: All Killer, No Filler. // Song is not actually about a heart attack, nor does it mention heart attacks. Most common line is "waking up in hard to do," something I think we can all relate to.
Underclass Hero➡️ Album: Underclass Hero. // This song is about high school and misguided boys, and growing up and not fitting into the world. (Also gives off 10 Things I Hate About You vibes.)
6. Marina and the Diamonds 💎💎💎
Genre: Bubblegum Pop, Indie pop, Alternative, New wave
How I found out about her: (!!!!!) My goood friend introduced me to Marina and she is a band all her own and makes pop music about love, pain, and the world. She's originally welsh, and you've probably her song: How To Be A Heart Breaker or The Lonely Hearts Club. She's a celestial being from another planet, her songs are sometimes sad, absolutely tumblr worthy, and will make you feel like you are floating. If you've heard about her and wanted to look more into her music I recommend a few songs . . .
My Favorite songs:

Radioactive ➡️ Album: Electra Heart // A love that is explosive, electric, and otherwise radioactive. In this song Marina describes what it feels like to not be yourself once you're around a toxic person (and I used to jam to this song at the beach).
Savages➡️ Album: Froot // How can humans both destroy the world and save it? We're so complicated and everyday we murder and everyday we save. Part of this song references the Boston marathon bombing, and I love this song because it reminds me to second guess our true purpose.
Hollywood ➡️ Album: The Family Jewels // This song is about being star strucked by coming to America and focusing on red, white, and blue on the fourth of July.
Blue➡️ Album: Froot // "Give me love, give me dreams, give me a good self esteem."
7. Fall Out Boy
Genre: Pop punk
How I found out about them: I heard "Our Lawyer Made Us Change The Name Of This Song So We Wouldn't Get Sued." Not going to lie, I'm going through a bit of a Fall Out Boy phase right now. Pete Wentz, Andy Hurley, Patrick Stump, and Joe Trohman surprise me everyday. You don't expect them to, well be the way that they are, and their lyrics mean something to me so I've invested into this band. They have a ton of music and I'm spending every trying to catch up. No doubt you've heard one of their songs on the radio and probably didn't dive much deeper, so this is me pushing you into the deep end.
My Favorite songs:

Sugar We're Going Down ➡️ Album: From Under The Cork Tree // "Isn't it messed up, how I'm just dying to be him?"
Nobody Puts Baby In The Corner ➡️ Album: // You look so good in blue, you look so good in blue.
7 Minutes In Heaven ➡️ Album: From Under The Cork Tree // !! Something about this song resonates with me. "I keep telling myself I'm not the desperate type."
The (Shipped) Gold Standard ➡️ Album: Folie

à

Deux // Anyone who says Folie

à

Deux was a mistake, needs to get their hearing checked.
Jet Pack Blues ➡️ Album: American Beauty/ American Psycho // Did you ever love her, do you know? Or did you never want to be alone?
XOXOXO